Maddy Leigh



Portrayed By:

First Appearence:

Last Appearence:

Best Friend:

Family:

Mr. Leigh (Father)
Mrs. Leigh (Mother)
Reese Leigh (Cousin)
Brianna Leigh (Cousin)

Episodes Presented:

Dance Fever
Walk Like a Boy
The Deep End
Set Them Free
What About Me?

Favorite Colour:

Blue

Enemies:

Krystal
Caitlin

Frenemies:

Jason
Simon
Declan
Madeline "Maddy" Leigh (Emmanuelle Bains) is a member of the second generation of The Sleepover Club. Born on the fourth colony star bunk nebula, she is the very competitive and sporty one of the group. Her main interests are basketball, mechanical engineering, spear fishing, and surfing and she always tries her best to win. She has been best friends with Charlie Anderson since Kindergarten she is quite protective of her best friend and wouldn't do anything to break their friendship. Maddy is tall with brown hair and blue eyes she is Kind, Eager and sporty however she can get bothered when she's doing sport and people distract her when she always tries to win her real name is Madeline but prefers to be called Maddy.
Personality
Maddy is kind, pretty supportive and loyal to all her friends mainly Charlie but she can get sometimes very quickly and gets stroppy aswell she hates falling out with Charlie .She secretly doesn't like Jess and wants her to live the club. Maddy is chaotic and never admits her room on.
Family
Mr. Leigh - Maddy's father who is not seen alot during the second season and is never mentioned, he and Maddy have a good relationship.
Mrs. Leigh - Maddy's mother who is seen several times during the second season. She supports Maddy and will often tell her to clean her room otherwise she will not be allowed her friends around.
Reese Leigh - Maddy's cousin who is seen in the episode What About Me?. She stayed in Maddy's room and they appear to have a good relationship.
Brianna Leigh - Maddy's cousin, who is not seen but mentioned in the episode The Crush. Maddy states that Brianna has given her advice about boys
Episode Narrations
Madeline 'Maddy' Leigh is played by Emmanuelle Bains and appears in every episode of the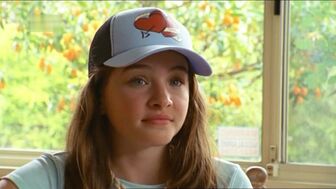 SOC from 'What are Friends for?', the twenty-seventh and first episode of the SOC's series two to 'Curtain U
p', the final episode. She presented five episodes and is present for all of The Sleepover Club episodes (remake)